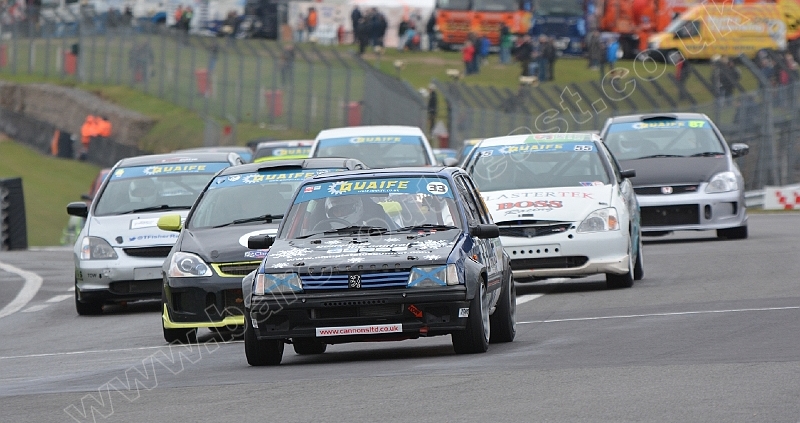 2016 Season Review. A solid start, missing the middle part and a few driver errors at the end of the season seems to be a fair reflection of how the 2016 BARC SE Quaife Cannons Tin Tops went.
Add to that a few wins and never finishing outside the top three all season (when we finished) and missing the championship by just nine points from eventual Champion Chris Whiteman and it's not been a bad season at all.

What did spoil it however, was the endless bickering from other competitors and from people within the organising club. From not allowing drilled front bumpers (check the regulations boys), to the mounting of the weight we have to carry (still seems like we are being penalised from a strong 2015 finish and now have to carry nearly 80kgs of weight even though we get passed on the straight like we are standing still – how can you penalise someone for being quick around a corner?!), to the wide arches we run – again all within the rules, to how close we run to the weight limit – towards the end of the season we even had people from within the club say that people didn't want to see us winning and that meetings had taken place behind closed doors to see what could be done to slow us down even further!
2016 Season Review
It seems sad that the organising club seem to pander to one person in particular. As a club, it has so much to offer, but the negatives are now far outweighing the positives of competing in this championship. This isn't sour grapes – it's a matter of fact. Throughout my racing career I've had to overcome adversity and this is no different. I've really enjoyed racing against the more powerful Honda Civic's this year – it's always nice to know that the Peugeot package is going to be competitive at which ever track we race at.
I like to think that I race hard, but fair. I will push as hard as I can (a little harder at times), and have had some great races with Chris Whiteman all season and Daniel Fisher later in the season. The three of us (and with Rod Birley at the early part of the season) were all within half a second of each other in the dry. What was really pleasing was that when power couldn't be relied upon in the wet, we could find ourselves nearly two seconds quicker than the next car – Tom Motorsport worked extremely hard over the winter developing the car into what it is today – which is a good, quick all round package come sun or rain.

Since the season ending in November, we've had a lot of thinking to do – whether to just stick two fingers up at the club and go again in 2017 or whether to look at alternatives. If we decided to stick with the Tin Tops, we know the regulations would be changing – it might as well now be called the Civic and Saxo cup. So after four seasons, we are moving to a new challenge and the Tricolore Trophy.
2016 Season Review
I already know a couple of drivers competing in this championship and it's a championship for French cars. We will be visiting new tracks and racing against new drivers so it promises to be another learning curve. It'll be sad to leaving the Tin Tops – we've made a few friends along the way, but it also seems that a few other drivers will be leaving the series for some of the same reasons I've listed above.


The car is already being prepared in readiness of the 2017 season. It's having a few upgrades by Spoox Motorsport who are Peugeot specialists, before 'coming home' to Tom Motorsport to carry out the final preparations in readiness for the first race at Snetterton in March.
I'd like to thank my race sponsors for this season – Complete Weed Control, Complete Ice Control, Etesia UK and Fusion Media who have made racing in 2016 possible along with Tom Motorsport who has prepared the car throughout the season and will continue to do so in 2017.
It's exciting times ahead. I've now been asked to be a Spoox Motorsport driver and we will have new sponsors for 2017. We will continue to develop the car, and at last it will be nice to shed that 80kgs of ballast and see how quick we can really go!
Keep up-to-date with all our racing activities by following us on:
Twitter
Facebook
Instagram
*Photos courtesy of BARC South East and Ambrose Motorsport Photography.
https://chrisbassett.co.uk/wp-content/uploads/2016/12/FAF051116-DSC_1165.jpg
533
800
chrisbassett
http://chrisbassett.co.uk/wp-content/uploads/2020/09/cb-wr2-1.png
chrisbassett
2016-12-26 15:55:52
2016-12-26 15:55:52
2016 Season Review