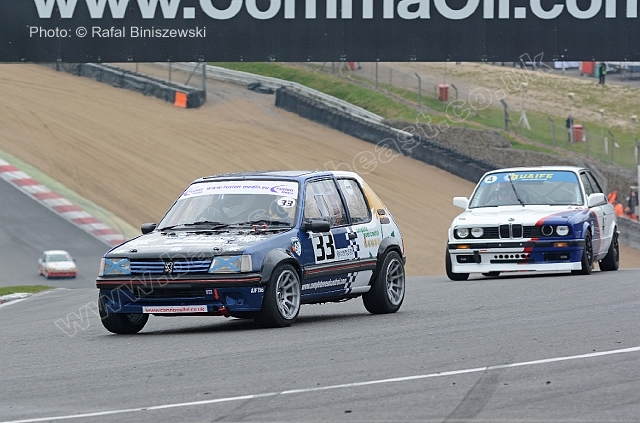 Following an unexpected break from racing due to engine issues on the Peugeot 205 GTi from the first round, Chris Bassett is back up and running for Brands Hatch on 25th July.
A great deal of work has been going on behind the scenes to find out the problems behind the engine seizure at the season opening earlier this year and the team are now confident that the problems will be a thing of the past and that they can concentrate on getting proper track time to further develop and fine-tune the car – something which just hasn't been possible with the reliability issues to date.
"We've had a lot of heart ache with the car so far, but the most frustrating thing is that when the car is going, it's competitive," said Chris. "We know that there is more time to come from the car; which will come once we get laps out on the track. I'm confident that we have finally put the bad times behind us and can concentrate on finishing races and fine-tuning the car."
Chris has missed the last three rounds while the team have researched and developed the engine even further, which he concedes has been extremely frustrating: "As a competitor, there's nothing worse than going to the race meeting s you should have been competing in and just watching others race wondering where you would have been finishing. I just can't wait to get out there again."
The next rounds are on the Brands Hatch Indy Circuit on 25th July – a home race for Chris who lives just two miles away from the track.
You can follow Chris on Twitter @chris_bassett to keep up-to-date with all his news.
https://chrisbassett.co.uk/wp-content/uploads/2015/07/FAF020515-DSC_0908.jpg
427
640
chrisbassett
http://chrisbassett.co.uk/wp-content/uploads/2020/09/cb-wr2-1.png
chrisbassett
2015-07-20 19:52:00
2015-07-20 19:52:00
Bassett Eager to Shine