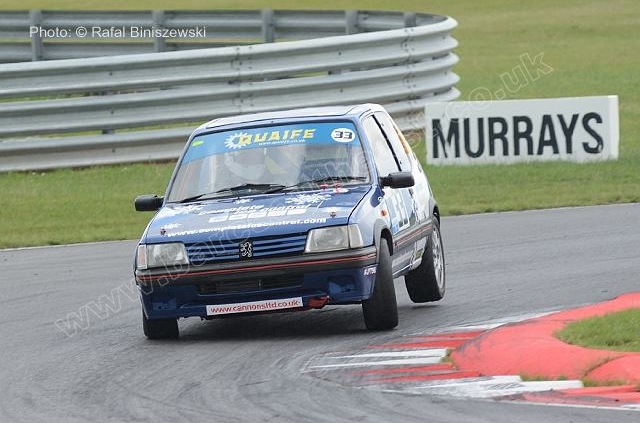 Bassett Eager to Show What Team Has Built in Opener
Six months after the curtain came down on the 2014 BARC SE Cannons Tin Top Championship, Chris Bassett is eager to get the new season under-way and "show what the team has built", as the Peugeot 205 GTi is readied for the first race of the season at Brands Hatch (2-3 May).
A 7-round calendar awaits Bassett and his Cannons Tin Tops counterparts in 2015 and it is the Brands Hatch Indy circuit that has the honour of hosting the highly-anticipated season-opener.
The 1.2 mile fast-flowing circuit, where Bassett achieved a breakthrough podium for his team in 2014, has a unique combination of dips, cambers, fearsome corners and hills meaning it is still one of the world's favourite racing circuits.
There has been no let-up from for the Kent-based team over the winter months. Countless man-hours have been spent building and developing the all-new Peugeot 205 GTi to the BARC Cannons Tin Tops technical regulations, meticulous attention to detail ensuring Bassett can put the car through its paces at the season opener.
With over 250 career victories in various formulas, Bassett is best placed to develop the car and, having taken a brace of podiums in the concluding part of the 2014 season, the Iconic Complete Weed Control Livery car is expecting more of the same when it takes to the track.
"I am very excited to get the season underway, especially at Brands Hatch, which is my local track and where we had our first major success," said Chris. "It's a hugely popular circuit and will pull in huge crowds thanks to the MG Car Club Championship also being part of the meeting, and this adds to the atmosphere and makes it a great way to kick-off the season.
"As I haven't raced in a while and the Peugeot has changed a lot over the winter, there is a huge amount of anticipation. We haven't done anywhere near the amount of testing we would have liked to, but what Tom Burgess, Russell Turner and Peter Mann have done in creating a brand new engine and numerous car modifications is remarkable, considering we weren't able to carry information over from last year. It's going to a be year of trial and error and we will inevitably make a few errors, but he who makes the fewest mistakes, wins."
Chris continued: "To put a label on the car at this stage would be unfair, as almost everything on it is brand new. A realistic goal is to finish both races and collect as much data as possible so that we can go away and develop the Peugeot even more before the next race. If I do come away with a strong result, it will be great. I'm excited to get out there, dig deep and show everyone what  has been built."
For more on Chris Bassett's racing activities, please visit the official www.chrisbassett.co.uk website, 'like' his Facebook page or follow @chris_bassett on Twitter.
https://chrisbassett.co.uk/wp-content/uploads/2014/12/chris-bassett-cannons-tin-tops-snetterton.jpg
427
640
chrisbassett
http://chrisbassett.co.uk/wp-content/uploads/2020/09/cb-wr2-1.png
chrisbassett
2015-04-09 08:30:14
2015-04-09 08:30:14
Bassett Eager to Show What Team Has Built in Opener