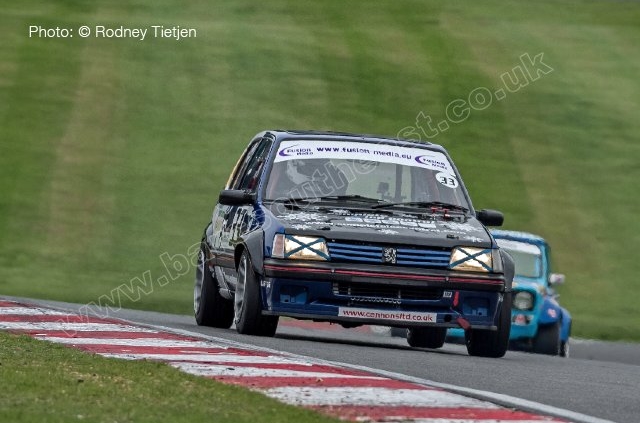 Race Report – Brands Hatch GP 13 September
Race report from the Brands Hatch GP meeting on 13 September
We've come a long way since the unreliable start to the season. The car has been developed throughout the season and we are now reaping the rewards. And so we headed to Brands Hatch once more but this time on the famous GP circuit full of optimism after our first class win last time out at the end of August.
The Brands Hatch GP circuit was the scene of our first engine failure last season and an early end. However, this time out we qualified 16th overall out of 40 cars and drivers (the grid was a combined grid of the quicker MN Saloons and Cannons Tin Tops), 2nd out of the Tin Tops and 1st in class.

Race One
It was a packed grid so our first aim was to get through the first few laps unscathed as the MN Saloons were on full slicks whereas the Cannon Tin Tops are on treaded tyres. We had a race long battle with the Subaru Impreza of Andy Banham, Dave Charlton's Seat Leon and Bill Richard's Rover Mini Clubman – all MN Saloons. Later, Tom Bridger in his Rover 200 Turbo joined the small pack.
In many ways it was a frustrating race – the MN Saloon cars would be extremely quick on the straights and pull away but we would close the gap under braking and through the corners – looking for a way past – ultimely we were holding each other up; but we just couldn't keep in front of them for long enough on the straights to get to the corner first and then build up a gap to hold them off.
And so it finished – getting passed on the straights but fighting our way back through the corners to finish a respectable 13th overall – 3rd in Tin Tops and 1st in class with fastest lap.
Race Two
Another packed grid and a rather uninteresting race really. The MN Saloons jumped ahead and I spent the race following Andy Banham and Dave Charlton after building up a manageable gap to Peter Osbourne in his Vauxhall Astra VXR. On the last lap Dave Charlton slowed and I was able to pass going into Dingle Dell and up into 9th place overall – 2nd in Tin Tops and another class win & fast lap in class.

So, the weekend ended with two class wins and two fastest class laps. We are certainly making steady progress with the car and set-up. It's pleasing to know that there is probably more time to come out of both the car and driver, but steady reliability and finishing races is the aim from now on. We can look forward with optimism and the chase to finished 2nd in the class championship come the last two races of the year in November!
https://chrisbassett.co.uk/wp-content/uploads/2015/09/RT130915-IMG_7874.jpeg
427
640
chrisbassett
http://chrisbassett.co.uk/wp-content/uploads/2020/09/cb-wr2-1.png
chrisbassett
2015-09-16 12:56:24
2015-09-16 12:56:24
Race Report – Brands Hatch GP 13 September